Trusted by top companies:
Ever noticed your emails
are just a flow of tasks?
What happens when you unify your email and task management?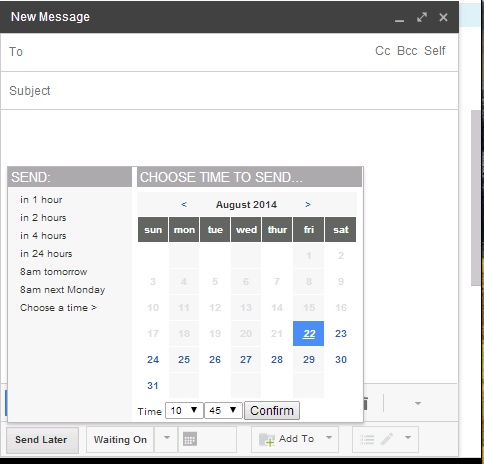 Connect with the people you need
Use Send Later to make sure your email is received when people are most likely to read it.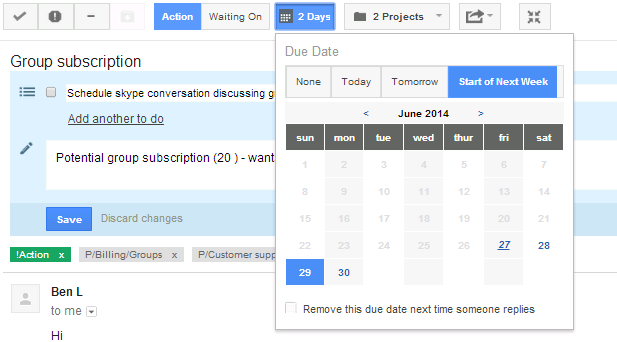 Don't miss a successful outcome
You'll be communicating more effectively with your team, turning leads into wins and retaining more of the customers you support.
Never forget to reply on time, by giving your emails a Due Date.
And don't just send & pray… Track your sent emails to quickly Follow Up if you don't get a reply.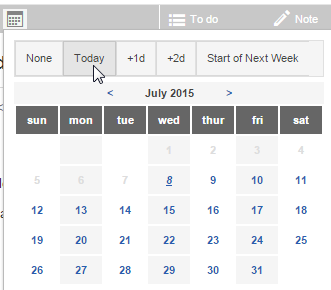 Make team decisions faster
By greasing the flow of team communication...

Ensure you and your colleagues reply to each other on time, every time, with Due Dates and Follow Up.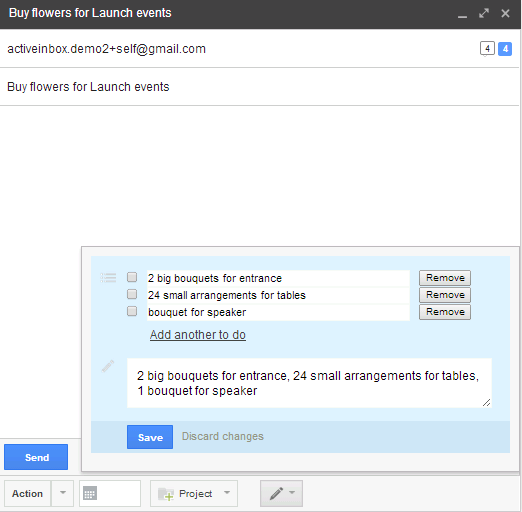 Unleash the value of your other tools
So you bought the shiny new system, but you, your colleagues and your customers still find yourself using email?
Create a Note on the email to record a link between the conversation and the other system, making it easy to keep it up-to-date so that everyone can trust in it!
Save time... and give your mind space to create
In the words of David Allen, the Getting Things Done® guru, "Your mind is for having ideas, not holding them".
To release your brain from its shackles, ActiveInbox reduces the time you spend in email, and removes the exhausting stress of worrying about chasing people or the fact your inbox is about to explode...
Never read an email twice

Summarize a long conversation into an actionable checklist of To Dos, and simply work through that every time you reopen it.

Focus on a handful of important projects
(not 100s of little emails)

Folders let you group similar emails, so you can escape the mental anguish of context-switching by doing related things together, and ensure projects move forward every day.

No more worrying about your inbox

Jump off the never ending spiral of unread emails. Turn important emails into tasks and sweep away the rest, to achieve the Holy Grail of Inbox Zero.
Strengthen relationships by using a safety net

Be reminded of tasks that you still need to do for someone every time you reply to them.

Keep your team happy and on your side

So you had to work late? With Send Later you can make sure your colleagues receive your emails in the morning, rather than being interrupted at home.

Stop switching between too much software

ActiveInbox combines an email client and a task manager into one simple tool, and even interweaves your other systems - everything you need is in one place.
Enhance the way you already work
ActiveInbox works where you do, with an elegant design that you don't need a PhD to learn, and stores your tasks in Gmail. Don't fear change or being locked in!
And, it simply makes your team's CRM and project management more effective, rather than replacing them.
ActiveInbox turbocharges Gmail into a real business tool, by treating emails as tasks flowing between you and your colleagues…
ActiveInbox helps me stay on top of the emails I receive.

With a team of 40 people taking care of 200+ suppliers, "closing the loop" on every task is very important.


Jimmy Prince
Director Material Management -
BRP Mexico
ActiveInbox turns your gmail into project management nirvana
If, like me, email messages drive at least 80% of the decisions you make and tasks you have to carry out, this extension will make your life about 95% easier.



CEO
Insightrak
My email life has changed forever. Killer product & exactly what this inbox 0 guy needed


Mike Bracco
Product Manager
JibJab
I can now sort through 100 emails in 10 minutes, putting them all in the appropriate category - I never lose track of anything anymore.



Project Management
Temple University Health System
This tool will help you empty your inbox quickly (achieve inbox zero) and transform your emails into deadlined tasks.
A "must try" if you want to easily keep yourself on track in an undoubtedly busy world.


Richard Gaspar
SocialCentiv