First, install into Chrome
Click Install to get started
A confirmation question should appear at the bottom of Chrome, click 'Continue':

After that, another box will popup asking for confirmation. Approve it.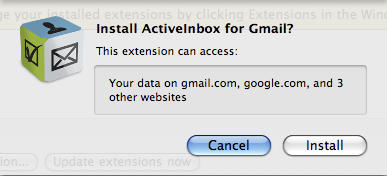 First, confirm you wish to install into Firefox
You may see a security bar at the top of Firefox, click 'Allow' to continue:

A confirmation box will appear. Click 'Install Now' to accept.

(If you don't see any of this, please click Install to start the install manually)
Yikes! ActiveInbox for Safari isn't quite ready... it'll be here in a few days.