Back to About Us
How can we help you?
ActiveInbox Overview
Get a review copy of ActiveInbox
First just install the 2 week trial of ActiveInbox from our homepage. Then you can drop us an email telling us your website/magazine via support@activeinboxhq.com when your standard 2 week trial is running out and we'll extend it for as long as you need.
What's unique?
We are Google Inbox for professionals - because working people have complex task lists to manage which Inbox can't handle.
We simply enhance the tool you know and love (Gmail) to give you far more control over emails.
ActiveInbox is more than just an email tool, it combines your email client and task manager into one, simplifying your work.
Even if you just want a better Gmail (and not a task manager), it's the only tool in the world that allows you to do things like prioritizing emails in Gmail by dragging them to the top of your email list.
Key Features
Never forget a task and make sure people reply to you by giving statuses and due dates to emails
Waste no time - know exactly what's next with to-do's and notes displayed on each email
Write better replies by quickly reviewing all your previous conversations with a contact from within your reply box,
Schedule emails to be sent later so you can work at any time you choose
Keep a list of anything your waiting for, so you keep on top of everything and move things forward
Group emails into "projects", and get new label views in Gmail, so you can focus and get things done
Keep all your tasks synced with a seperate Google Calendar and export tasks with one click
Who Is It For?
Anyone who's work lives in email: especially managers and freelancers(i.e. people for whom Gmail is the center of their daily workflow, but who need a simple integrated project and task manager)
People who love GTD® (we used to be called GTDInbox!)
People looking to keep their busy inbox under control.
Key Stats and Figures
Cost: 2 week free trial. Then $39.95 p/a for our Solo licence
A 5* average rating on Chrome store (from over 400 reviews)
40,000 users from all over the world, from the co-founder of Salesforce to the lead designer behind Spotify
Delighted customers in world-class companies like Jaguar Landrover and Roche Pharma
Press Coverage
Resources
Copyright License For The Website


Any image? Any piece of information? It's yours - take it!
Logo

Cube Logo

Banner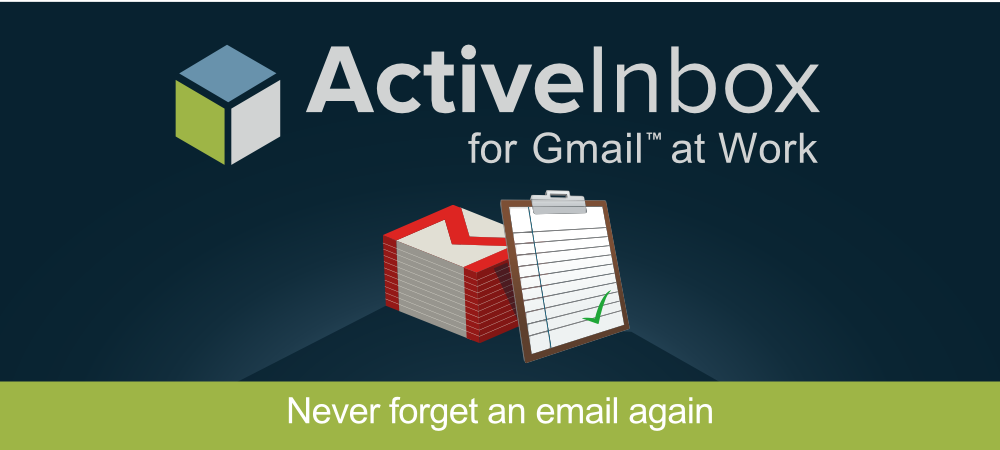 Contact us for any more material like annotated screenshots or different dimension logos - sam@activeinboxhq.com
Our History
Started in 2006, as GTDGmail (before a legal tussle or two with corporate lawyers), as a week-long side project to create a cheap customer support tool in Gmail.
Received $20,000 in (initially unsolicited) donations from 700 fans, the greatest individual donation being an incredible $300.
Became a company in 2009, based in Brighton in the UK. We operate as a handful of core people with lots more specialist skills contributing from all around the world. We believe this is an exciting blueprint for any Web company.
As of 2012, we are totally bootstrapped (no investment), profitable and rapidly gaining momentum.
Use Us
If we help fill in the blanks for any story, or you just want to inform us you've written something so we can blog about it, contact Andy: andym@activeinboxhq.com.
We can reduce your email overload
Journalists are some of our most relieved customers because you suffer a very one-sided (as in, everyone wants to talk to you) overflowing influx of email.
You can find our current best practices in our Documentation, but we're not finished improving yet… so come and request feature ideas in our Forum, let us know you're a journalist, and we'll sweet talk you and improve things until you're giggling with joy.
Do you want Andy to advise you on dealing with a busy inbox?
We would happily do a one-to-one chat with you to listen to what difficulties you have with email, and suggest how you might solve them -- or even how we could improve ActiveInbox to solve them. Just email me: andym@activeinboxhq.com
Get exciting news that affects 40%* of your readers
Things we have: the tech ability to totally transform Gmail for professionals
Things we don't have: Google's giant mainstream userbase that resists change
So we can try all manner of ideas - some stirringly powerful, some a little silly - to innovate around email. We think you'll find this interesting.
Our regular Twitter conversation
Our Monthly Newsletter


* 40% is an estimated market share of Gmail (vs. Hotmail and Yahoo)